Popo Soap
A long lasting, fragrance free, gentle and natural bath soap
Its thick, rich yet very gentle fragrance free lather is suitable for Mother's and Baby's soft, delicate skin. Mothers just love to use this rich, gentle, natural bath soap
Popo Natural Soap is fragrance free and is therefore suitable for:-

People who are allergic to any type of artificial/chemical fragrance commonly used in almost all types of soaps sold everywhere today.
People who are hyper sensitive to any form of fragrances as a result of undergoing Chemotherapy treatment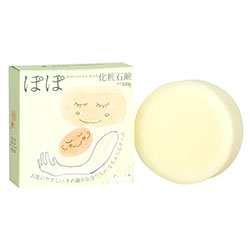 Anti-Oxidant Toothpaste
Description
Natural ingredients including green tea extract, beta-carotene, xylitol makes the product safe to use. Various nutrition processed by EM technology increased the product safety. It also is Fluoride-free for dental health as well as for reducing river pollution. Silicon dioxide, the cause of teeth damage has reduced as 1/10 and increased damage-free silica content. Brushing with EM toothpaste will make teeth and gums healthier.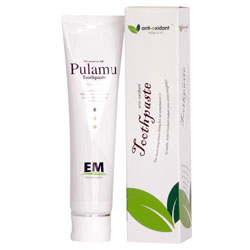 Body Band
Generally used to improve and maintain women's health and also suitable for women who are suffering from various other chronic illness like diabetes, high blood pressure, poor digestion, constipation and other problems generally associated with women etc.
1. HEALTH BENEFITS FOR USERS
Reduce active cell oxidation in the body (anti-oxidant effect) to enhance proper organ function and health.
Improve blood circulation and normalizes blood pressure.
Improves weak digestion and eases bowel movement/ constipation.
Reduce/eliminate back pain caused by poor blood circulation and exposure of the body in cold / wet weather (wearing clothes that exposed midriff, bareback etc )
Constant use will help alleviates / reduce menstrual pains
Reduces morning sickness.
2. USER INSTRUCTIONS
The anti-oxidant body band can be used like a body fitting underclothing due to its elastic material.
Wear the body band at work, during leisure activities or at home.
Especially good during cold weather or vacationing in cold countries as this body band helps to keep the body warm while improving blood circulation.
3. WASHING /CLEANING INSTRUCTIONS
The body band can and should be washed as and when necessary.
Use one tea spoon of Emina Premium multi-purpose washing powder in a small bucket of lukewarm water.
DO NOT USE CHLORINE BLEACH and do not iron.
If the body band is very dirty with stains, it would be better to soak it in the Emina Premium soap water for a while longer or apply Emina Premium Soap Powder directly to the stain and brush them with a little water before soaking and rinsing.
The body band should preferably be hand washed and drip dry, do not wring dry as it might over stretch the material. Drip dry as soon as possible after rinsing or use a clothes netting if a machine spin dryer is used.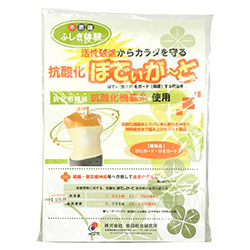 Anti-Oxidant Enzyme Pail
Anti-Oxidant Pail - Size :9.5litres
This imported Japanese anti-oxidant "wonder pail" is made of food grade plastic embedded with anti-oxidant properties.
Turns hard tap water to soft, ionized and mildly alkaline water – Drink it as it is or use it for making hot/cold drinks or for your cooking water.
Retains freshness of dry food
Removes stale smell of old rice within 1 day at the same time keeps away rice weevils.
Reduce foul smell/ odor.
Help neutralize foul smell/odor when storing food, waste, and laundry
Excellent for making healthy fruit enzyme drinks.
Ingredients for enzyme drink:
1 kg peeled fruits (dragon fruits, grapes, apples, pineapples, kiwi, ginger, papaya and mangoesteen)
1 kg of sugar (preferably raw/organic brown sugar or molasses)
5 liters of water
Instructions
Step 1: Wash and dry fruits. Remove fruits with hard skin (e.g pineapple, ginger and dragon fruit). Cut/Dice them into smaller pieces.
Step 2: Mix water, sugar, and fruits into pail. Lightly place lid on top. Place pail in room temperature away from the sun.
Step 3: Stir every morning and evening. The mix will ferment into a nice wine-like, fizzy drink in approximately1 week. In a hotter climate, fermentation is faster.
Step 4:Taste the drink (those who want it stronger, leave for 1 or 2 days longer). Do not leave longer as drink will turn into vinegar. Step 5: After drink is ready, sieve unwanted fruit pulp. Enzyme drink should be kept refrigerated and consumed within I week.
Anti-Oxidant Moisturizing Cleansing Soap
Ingredients: - EM(EM), Houttuynia cordata extract, Olive oil, aloe vera , Green tea extract
Features: 1. As it contains patented EM-oil, it has more than 4 times higher natural antioxidants than general oils. (Patent No.10-072119 Effective Microorganism (EM) utilized cosmetic compositions and their production methods) 2. Helps improve skin conditions suffering from atopic and acnes. 3. As it contains natural substances that protect skin, it has a great moisturizing property after taking a shower.. 4. As it brings nutrients of clean and fresh vegetables and antioxidant from nature through EM technology, it heightens antioxidant properties in the soap. 5. It does not irritate skin and has excellent moisturizing effect. 6. As with a lowered soap powder contents of 40% or below, it is mild on your skin and prevents any skin trouble from occurring. (Ordinary soap has more than 80% soap powder. It removes excessive amount of sebum so that it may lead to skin troubles for sensitive or delicate skin.) Definition of EM (1) EM is an abbreviation of Effective Microorganism that is created by combining and cultivating dozens of microbes existing in the natural world that are beneficial to humans..(2) EM mainly consists of yeast, lactobacillus and phototrophic bacteria and it can be said that the effects of EM stem from antioxidant power of fermentation product out of complicated coexistent relations. (3) The features and common characteristics of Effective Microorganism are antioxidants of low molecules or substances that have an efficacy to protect matters from being oxidized. A high level of anti-oxidization destroys toxin from harmful microbes and turns harmful microbes to be linked to EM to serve a beneficial role. (4) In addition, the feature of EM lies in the fact that it allows the coexistence of aerobic and anaerobic bacteria, saprogenic and synthetic bacteria. It is inconceivable in terms of the existing microbiology. How could microbes that cannot live without oxygen and those that cannot live with oxygen live in the same environment? The key to this puzzle is in antioxidant substances: as the substance permits these different microbes to produce food sources for each other. The same logic goes to saprogenic and synthetic bacteria. (5) EM is a very important microbe that recovers ecosystem of microorganisms and at the same time, the revived microorganism's ecosystem itself is EM. (6) EM in the narrow meaning refers to effective microorganism groups and to a commercialized product (EM liquid formulation) that contains phototrophic bacteria, yeast germ, lactobacillus, Actinomycetales, Filamentous bacteria, etc.